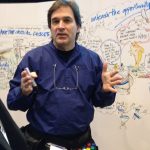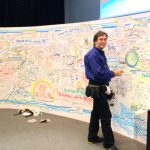 Navigating, Discovering, Connecting
 Visual Minutes, Transformative Narrative, Executive Team Coaching
 What I love is exploring the quality, creativity, and vitality of relationships, navigating the intricacy, and complexity of living in collaboration, dreaming and recognising that change isn't a journey, we are already there.
 I started facilitating engagement in some villages of India in 1974 – 1980 learning the hard way about the wisdom of ignorance, the power of incompetence and value of insignificance. This sparked a lifelong exploration of the factors that correlate around authenticity and courage, motivation and engagement.
Inspired by this I developed various investigative approaches, including 'recollecting for a change' and 'interactive recycling' which became part of the School of Unknowing, Executive Team Coaching and Transformative Narrative work which is my main focus now.
During the development of this school of thought it became clearer and clearer why listening was so essential. VisualMinutes, and the gathering of artists into Creative Connection grew from this need to develop the Art of Listening as one of the most powerful [and effortless] change processes I have ever experienced.
__________________________________________________________________________
Crafting Connection and Tim's Creative Connection have collaborated on projects  for the last decade… it's an on-going story!!