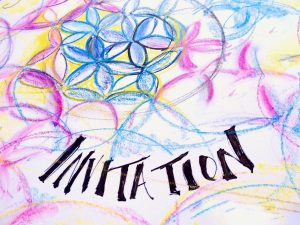 "Ring the Bells that still can ring
Forget your perfect offering,
There is a crack in everything,
That's how the light gets in."
Leonard Cohen
I believe we all have longings and yearnings and they are some better part of us wanting to become visible. They are the sum of all that we are as well as all that hasn't come through yet. This part of us is still invisible, still unrevealed, still in waiting.
For those of you who feel that you have a yearning which has been in waiting far too long and would like to play with us, uncover it, and start to create the right space for it to grow, this might be a workshop worth joining.
It's a big deal because you've invested most of your life not revealing it; of living on the surface and bypassing the brilliant stuff, of allowing the noise of life to divert your focus, your dreams and sometimes this can feel like you've have lost your way. You haven't.
What has happened is that you have simply distanced yourself, disconnected and lost touch with your thing, your sense of "muchness". As you start to remember again it's like you forget that you even doubted yourself in the first place and you know exactly what to do and which way to step.
I invite you to come and step in with me, celebrate that which you are and have always been and bring all that yearning to light.
The Creative Potential Studio 1.1 is the first of two workshops where we will create an amazing space to Experience, Discover and then Re-Create into a new form. We don't know what the form is yet so we will play and hold space for not-knowing – there's wisdom in that! We will co-create as you examine how your creativity wants to show up in your life – whether it be a project, a new job, an old job wanting to change, a relationship or a new way of looking at the world – or something else! Then we will uncover the way forward.
We are all creative and we are all unfinished and on-going artworks in our own right.
Come and begin.

Vanessa Smith (Creative Facilitator/Visual Coach, Human Potential Trainer, Visual Harvester) will facilitate your process. She has worked with Creative Potential in organisations internationally since 2004 supporting clients recreate, redesign, and re-form their lives and working practices. Please visit www.craftingconnection.com for more information.
When: 22 September 2017
Where: The Story Studio
Paviljoensgracht 20-24, Den Haag 2512BP, South Holland
Time: 10am – 4.30pm
Investment:
EARLY BIRD PRICE 187.00 (excl. tax 21%)
INCL. TAX 226.27€ (book before 22 August 2017)
FULL PRICE 227.00€ (excl. tax 21%)
INCL. TAX: 274.67€
UNEMPLOYED RATE: Donation
Refreshments: tea & coffee provided
Lunch: Pot Luck – instead of putting extra cost on the ticket we prefer to bring something to share. It will work, it always does!