Preparing for Potential to Happen



The power we all have to completely revolutionise our own story, step out of low level reactive behaviour in order to move into the new story requires courageousness. It requires a bigger conversation with ourselves, with our colleagues, and with life.
The way we deal with everything and everyone can be courageous, forward-looking, inclusive and transformative; it can be a place where hope and compassion combine with the unfolding, ever changing reality of today's world.
We can courageously reach beyond the old narrative of power-over, of win and lose, of weak and strong, of them and us. We can create a reality where we understand that we are crucial to someone else, rather than thinking that everyone is crucial. In many cases we can no longer afford not to.
Here, doing the right thing at the right moment is not random but rather it is perceived from a bigger picture, with a wider vision.
_____________________________________________________________
What Makes Organisations Extraordinary?
Beneath an inspired and cohesive organisational approach, is a shared comprehension of personal and team potential coupled with the wisdom of deeply listening first, acting later. When we honour our human potential we start to engage differently and ask new and far reaching questions which produce aligned and sustainable results.
We are creating a space for a highly integrated and naturally creative approach to SCALABLE CHANGE to unfold; a space where you are the experts of what you do and you are also the creative experts waiting to happen.
---
C R E A T I N G F R OM P O T E N T I A L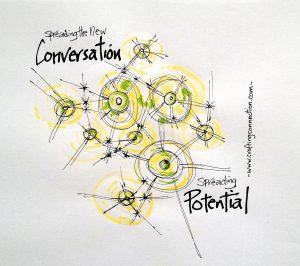 We believe that your organisational potential needs to be listened to and analysed first so that the systems and processes you produce reflect your knowledge and wisdom.
We are offering a programme that is comprehensive, analytical and creative.
We use Visual Facilitation coupled with Human Potential Assessment and Leadership Coaching to discover potential and develop and deepen your understanding of the new story emerging and the potential it holds for further evolution. Our approach begins from a higher, deeper point of departure toward successful and highly effective change and development.
---
Let's get together to explore, uncover, assess, re-question, harness the data, the stories and wisdom that emerge and design and create extraordinary results.

---
YOU & YOUR ORGANISATION WILL:
Harness the energy already existing in your team, producing profound, effective results

Gain insight into the potential already existing and how to scale it out

Be surprised by the discovery of your own creative ideas and ways through

Gain clarity and strength

Gain a powerful common sense understanding of where you are now and the multiple options open to you for advancement

Experience increased personal energy, motivation, creativity and engagement

Enjoy increased team engagement

Experience a coming together of left and right brain approaches to change
---
_____________________________________________________________
WHAT CLIENTS HAVE SAID ABOUT OUR WORK:
"This is such a powerful process that allows the participants "see" what they have "heard" and thus not only adds another dimension for the comprehension of what has been shared but also deepens the exploration". Nathalie Bayol, Leadership and Executive Coach, Paris
"We were changed by Vanessa's work. When a group's words and thoughts serve as the source of a communal image, something shifts. A loop forms. They take ownership of what emerges. The images inspire conversations and the conversations show up as images. We occupied a room specific to us, a chronicle of our unique wisdom" David Robinson, Transformational Coach, Artist, at Truly Powerful and Transformational Presence
"People hear themselves in a different way and access parts of themselves that they may have lost or forgotten" Tim Casswell, Owner & Visual Facilitator, Creative Connection
"You must have a hell of experience with strategy work and people engagement to be able to do such a job" Julia Schweitzer, Brand & Marketing Communications Manager DNV GL – Oil & Gas
"It brought such a special touch to the evening as the evening unfolded and kept people engaged, which you must have already known would happen." Women's Business Initiative, International Women's Day 2014