This morning I decided I wanted to commit (big word for me) to some sort of action on a regular basis to honour our Be the Change Cards in the world. (Many of us pick one everyday but I've had the urge to write and see if it leads me to some new connection or creative idea).
Not ironically at all (as some of you who have the cards will know) and true to their character, I picked "Step Forward, Make Yourself Available and Commit". (The cards seem to like playing with us!)
So I sit here and reflect, let's see:
I like to have the freedom to let the flow move me so committing to something regular doesn't sit comfortably. Actually as I let myself flow with this card I would say I have definitely stepped forward and made myself available, but I have to admit, there's this part of me that holds the 'commit' word at a distance. It feels too tight and a little restrictive and yet, hang on, I do it everyday especially with people in my life and certainly with bringing more connection to creativity into the world. Yes, I am a committer, perhaps just not to repetitive habits that go on way too long.
But those trees in the picture look like ancient Spanish olive trees. They would have needed consistent care to grow that strong!
Perhaps in order to help them (those 'dream' trees) grow, I could remind myself of the harvest I am looking forward to as it suggests in little guidebook and recall the promise that keeps me going. That'd do it! The promise is big enough to die for! (I think).
Ah, that was a good start to this Monday morning and this new commitment.
See you next week.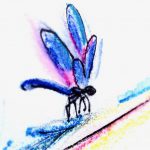 ~ Inviting, daring & inspiring individuals and organisations to think differently & create anew