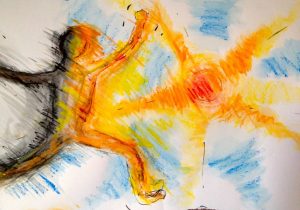 It's dark out; it's quiet with a sense of waiting, hoping, longing.
What we want to create this year will be different for each of us, but the desire to create and engage in whatever form will be in us all.
New Year could be seen as a moment of initiation, of beginning, or of a complete refurbishing. Or it could be that we are in the middle of something and might want to initiate a new approach to an existing project or simply refresh and refocus; it just depends where you are.
But wherever you are in your life there will be natural out-breaths, pauses, moments and opportunities to regroup and consolidate, edit, prune, rework or re-see.
This moment invites and supports us all to bravely Seize the Day, to step forward to act or step forward to listen and observe.
Choose to relish the moment, hold it, delight in it, gather your strength into yourself and sense what is to come. The time is now!
---
An Invitation and a Gift
I invite you to make your potential visual and tangible so you can see your own bold, powerful statements throughout the year reminding you of the essence of what you want to achieve.
Keep it in your head and it will dilute. Make it visual and re-inspire yourself over and over throughout the 2016.
Option 1:
Create your own Vision Board (see below)
Option 2:
Gift it to yourself or a friend and have your Vision coached and (literally) drawn out for you by Crafting Connection
The Art of Listening & Big Picture Vision Harvesting
Get quiet and listen. Breathe deeply and relax.
Tap into your senses as you breathe. What do you hear, feel, taste, see? Attune and Antenna yourself
In your mind's eye imagine you are above your whole year's panorama and looking out. Really FEEL into this.
When ready ask yourself what you really want to CREATE and who you want to BE this year (listen widely not holding anything too tightly and feel the energy of it then write your answers)
Breathe and centre yourself again. Still looking down on yourself from a height ask yourself "What do I want to bring?"
And finally ask, "What will that look like?" Get as specific as you can here and expand on this section later in your own way by writing down the actions you will take.
Listen to your answers as if you were a third person, detach and feel into the power of the words you use. Just HEAR them as sounds and then FEEL them. Write or draw and colour those powerful words in whatever way you choose. You have now harvested some powerful words from yourself.
Draw any images connected to the words or cut pictures out of a magazine although stay as much as possible in the energy of the picture you are creating.
When you feel you are done for now post the picture somewhere you will see it – on the fridge, on your work desk, in the bathroom. It might sound strange but the bathroom is a place where you can detach from your thought patterns, it's a place to pause and remind yourself of what you want to focus on. At any rate, if you can see it you can put your focus where it counts and expand this focus out into 2016 as much as possible.
Congratulations. Your picture will serve as an anchor to your Vision. Make sure you let it evolve throughout the year and add other words and images to it as they come up. Keep breathing life into the artwork your life is.
Wishing you a wonderfully successful year where your potential really comes through and flourishes.