Even though it's nearly two years ago that I was visually facilitating at the Vatican for a multi-denominational meeting that asked the question what can we, world religions representing 80% of the world's population, do to support the United Nations' sustainable development goals (SDG's) – what I experienced there as an artist in the room visually harvesting and scribing won't leave me.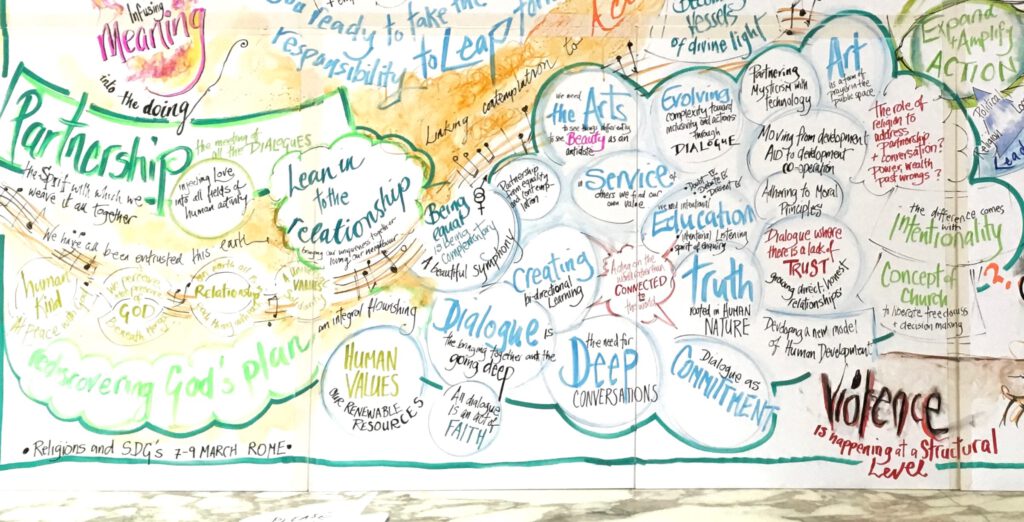 It has stayed with me mostly because two things came together. 1. My passion and love for planet earth (finally I got a chance to be involved in something this extraordinary) and 2. what I experienced as I stood there receiving not just the words but the ENERGY behind the words feels like a perspective that needs to be told.
I had been invited by Father Zampini, an inspirational Argentinian priest while drawing at a previous gig. He said "I see what you are doing and I would like you to come and paint on the walls of the Vatican!"
Stunned and quite overwhelmed I suddenly felt dizzy and needed to sit down. I think he doubted that I liked the idea!
Once I had got my sea legs back I smiled and told him I was simply overwhelmed by the invitation and that 'yes' I would be honoured to draw at this unique gathering at the Vatican.
It felt like one of those before and after moments which actually took some days to assimilate so I could then focus and be in the energy I needed to be in in order to receive all the voices and make sense of them all visually.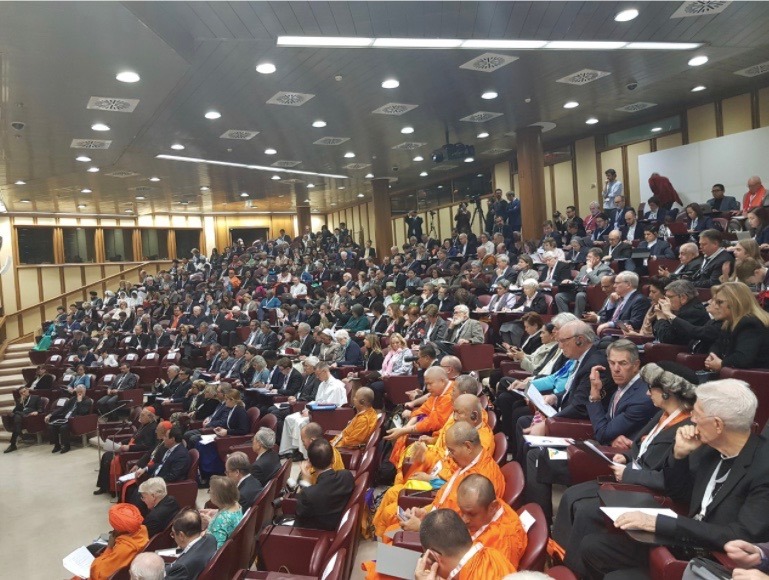 There was an urgency right from the start as the many invitees arrived in their diverseness of culture and traditional costume. Here we all were to discuss how to save the world! It felt like a tall order and I wasn't sure if I was big enough to receive it all.
But receive I did, and before long we were well underway and the energy started to accelerate. Great concerns and much brilliance and wisdom were shared throughout those unforgettable three days in Rome.
My job as Visual Facilitator was to collect and organise visually what was being said. But in reality it is always so much more than that. The work is primarily about deep listening and deep sensing – then the images follow from that sensing. I always say that I love my work because it makes me practice being a better person. In reality what it does is make me practice radical presence, becoming empty so there is space to freely re-create, being ok with really not knowing what is coming next.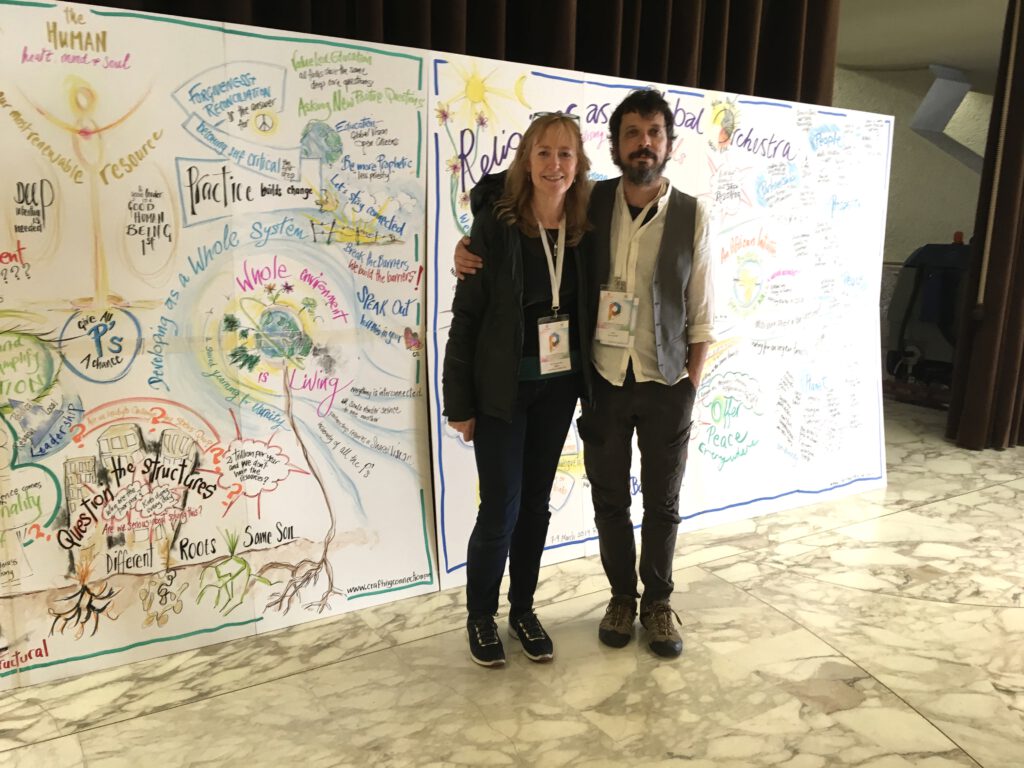 Drawing live at meetings requires the practitioner to be completely with not just the speakers and the participants in the room, but also to be with the bigger conversation going on in the field of what is emerging energetically and how that informs us systemically. It requires letting go of the head's need to constantly create form and allow things to just be so they can re-form into something else we might never have suspected if we had stayed in the strict confines of the head and all its form making.
So with that explanation you might well imagine how I was feeling by the morning of day three of the meeting at the Vatican with so many people and so much anxiety and fear about how we are going to make it through and re-create a post climate-change world.
When things get too much, and they so often do for me while I'm holding so many peoples' emotions and tensions during this work, I find it important to let go of it all. It's a bit like a surrender! Like going beyond it all to another field perhaps which… well… just IS for a moment. Here I can catch my breath, lean back out again and relax. Here I can also gain a little more clarity and peace which is where I can recuperate and regenerate.
But in my hotel room very early that morning, I just couldn't sleep. I was full of so much anxiety and grief about the state of the planet and this anxiety and grief I knew was very fully in the room I was about to return to for the last day of the conference. I remember turning on some music and dancing, really going to that place at the middle of it all and feeling everything.
Then I connected with it, I connected with or connected through to what felt like the centre of it all… the core, the essence, the part where everything came together.
That's when I just knew we were missing something so big, so fundamental, so simple, something so obvious we couldn't even see it.
I prepared my things and left for the last day of the conference. I stood in front of another empty canvas, three hundred people settling in behind me to listen to the first speaker of the day, I did my breathing and re-centering to prepare for whatever was to come at me. I was ready, tired, but ready for the last stretch.
But instead of (more) words I received the wind which sent goosebumps right down my writing arm. The speaker was blowing into the microphone imitating the sound of the wind. That's when everything shifted from the head into the physical senses. I felt that the attention of the people in the room shifted into a shared innate collective presence.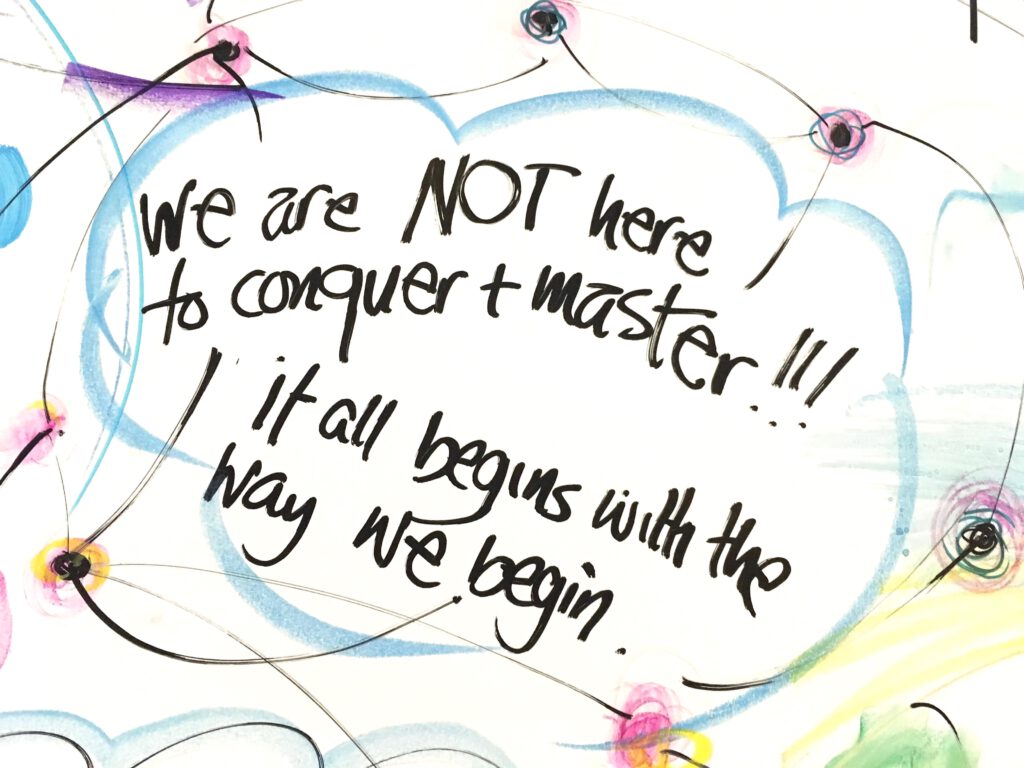 The speaker Angaangaq (a Shaman from Greenland) had united us in an instant by bringing us back to what we share – in this case the breath. This is what had been missing. This is what I often experience as missing in so many meetings and encounters with other groups. This pure human presence which is the core of WHO we all are. And I wonder, I really wonder what might be created between us if we paused a moment and remembered this common centre. How it might inform our next moves, how it might help us discover new pathways forward which we are currently struggling with.
This presence dissipated the anxiety in the room and calmed us all. It then opened the field back up into a more spacious playing field from which we could recreate. Indeed, this kind of presence opened up a field so spacious one could sense into something beyond the idea of even re-creating, it could have taken us into a place where instead of being the creators, we became the hands in which creation moved through us. This place was clearly way beyond the space which our busyness had been obscuring and our fear had been blanking out.
My story felt like it had come full circle, and I left feeling profoundly grateful for having had this experience of anxiety, discovery, and breakthrough. Now I'm sharing it with you and sign off with these words of wisdom from a Peruvian indigenous wisdom keeper…
"The question "What can we DO" is the SECOND question.
The first question is "What can we BE?"
Because what you can do is the consequence of who you are.
We cannot afford to waste time. We need to be precise now. Action is extremely necessary at this time.
But it needs to be born from a place in ourselves that has real talent, real intelligence, real connection to the heart of the earth so our actions are not a waste of time so they are in harmony with that movement that wants to enhance all life." ~ Arkan Lushwala