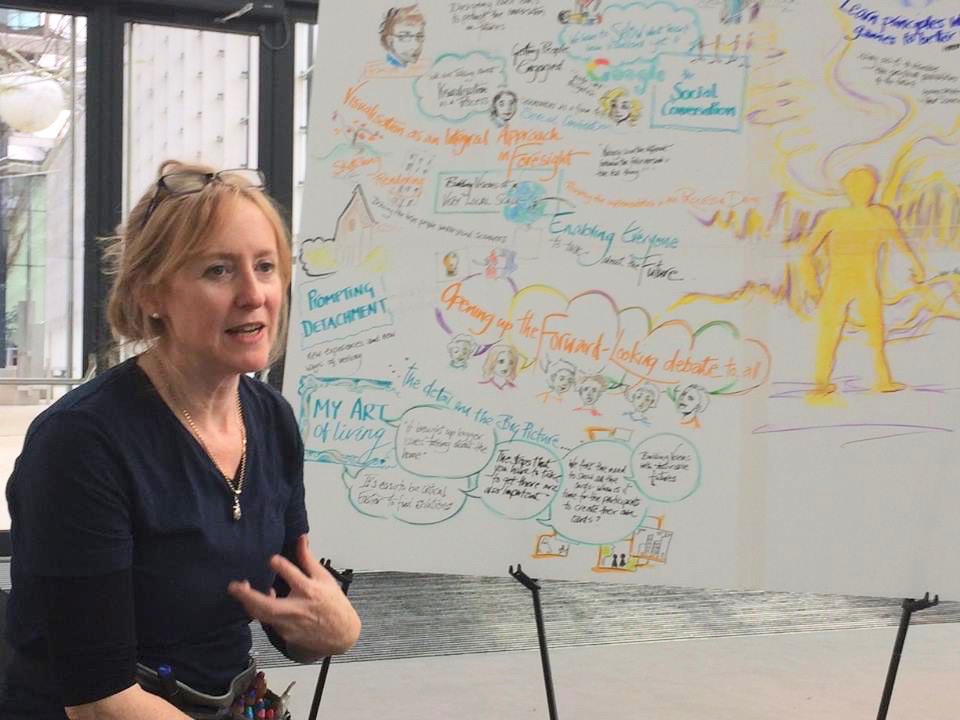 "Vanessa's Visual Facilitation catches the energy of the process. This creates space for real transformations to occur from within. It takes you to places you've never been."
"The images inspire conversations. People take ownership of what emerges. The resonance amplifies the possibilities."
Our Visual Facilitation and Visual Harvesting and Active Listening take a primary role in our group processes.
Our creative tools tap into the creative solutions already present in the field.  We create with you and harvest from that field, drawing out the potential coming through at your meetings.
We simplify the complex, visualise your brilliance, and elevate creativity.
What results will surprise and transform your meetings, group processes and results.
We Offer: 
Visual Facilitation and Visual Harvesting – your meeting or workshop is facilitated and visually harvested. For Creative Team Development, Strategy Development, Think Tanks, Innovative Group Work wherever breakthrough is needed.
Visual Harvesting – you get a graphic, colourful visual representation of your conference or event. We help you map and connect the dots visually and have a memorable record and communication tool for sparking more creative ideas, unseen connections solutions.
Post Event/Strategy Development Rich Picture  – a studio finished Rich Picture to communicate your message to your organisation.
Additional ways of working with Visual Facilitation and Visual Harvesting
Visioning/Conceptualising 
Story/Narrative Development
Transformative Products generated from your visuals
Keynote Coverage 
Audio Visual Material
Graphic Recording Training 
Why bring an artist/coach into your work-space?
Bringing an artist into your organisational space can have a profound effect on the environment. The presence of artistic creativity transforms the ordinariness of work. It raises questions and curiosity and can highlight the things people have lost of sight of or have taken for granted.
When artists begin to express themselves, the workplace is refreshed. New ways of seeing the space, the vision, the mission, and your day to day work become part of a business culture.
"Crafting Connection's Visual Facilitation and Visual Harvesting work opens doors of awareness and understanding. It inspires clarity and effective action. Your ability to perceive on multiple layers is speeded up and illuminated. You are able to see the Big Picture and create anew. Throughout our four days, the proceedings were captured in "visual minutes" by Vanessa Jane Smith (Spain) and Amber Holmblad (Denmark). They created four murals approximately ten feet long capturing our discussions and experiences in pictures and words. It was so amazing to watch the summit unfold in this visual way. If you are leading a conference, I highly recommend including this dimension to the experience for your participants. It added immeasurably to the richness of our summit."