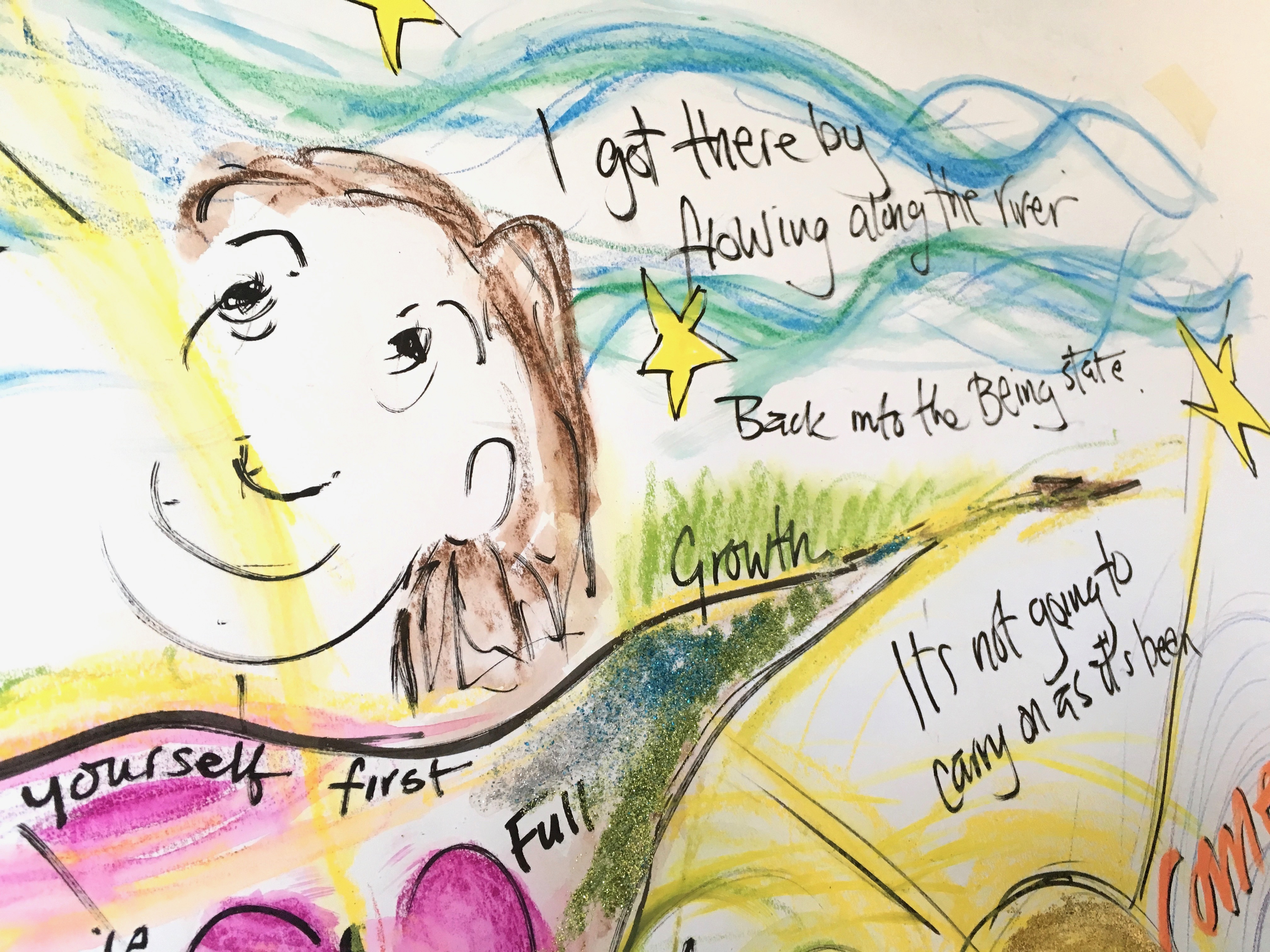 "A truly powerful, insightful and deeply intense session full of revelations and connections from which I emerge feeling both motivated for the future and serene about the now!"
"After the Vision Quest things feel connected and possible whereas before there were hurdles in my way. I feel that I am flowing, open and expanding into the future and can see now my past, present, and future."
Invitation to the Vision Quest
Is this a good time for you to step back, check in, and 'draw out' your vision for the coming year?
What would you stand to gain? What would your relationships, and your work stand to gain?
What would you like to bring forward and create?
Are you ready to really CLARIFY, DECIDE, & COMMIT?
What is it?
A service and a product: a one-off individual creative leadership session with your own visual map drawn from the session.
How does it work?
We will take a deep and wide view of who you are and what is driving you
As you speak the resonant images and words are drawn into your Vision Quest. They are the potential showing up in which you can use to manifest your Vision Quest for the year
We create a Visual Map or Big Picture of the whole session which will serve as an anchor for you to centre back into in the year to come
How long and is the session?
1.5 hours
Investment
done on a sliding donation basis with a minimum and a maximum amount you can choose to pay
2017 was a year of great shifts for so many of us. I saw it in my own life and in the lives of those close to me and the with clients. These shifts all began on the inside, they were all been initiated with a decision and a commitment to transform once and for all. The Vision Quest Session will bring clarity to the steps you need to take right now.
Many women I know in particular are really beginning to step forward and commit most powerfully to the work they are here to do and the gifts they bring the world. Collectively, we seem to be stepping into a different way of looking at our lives and the things showing up each day. We seem to be rising above the level of action and reaction and looking for a 'third way' through which also offers us the breakthrough we need.
The time for thinking about it is over; it's now time to get out and share our gifts and BE that person in the world.
This makes me very excited about how this is going to play out in 2018 for us all!
And of course, it's that time of year again where I offer my Vision Quest Session for the coming year. It's a chance for you to clarify, decide and commit to deep transformation and profoundly new results.
"My windows were cleaned again and they are crystal clear now. It was an experience in clearing your vision like taking a special cloth and cleaning your glasses"
"You assisted me and made it possible to make some huge steps that at first appear to be nothing but then show up for what they are – enormous strides. Your presence and drawing enabled me to figure it out not in my mind but in my heart and my guts."