We are a group of multi-lingual independent artistic facilitators, consultants, coaches and artists. We engage and "Big Picture" with groups and staff members at all levels to bring out the greater potential when they are dealing with group and team issues, think tanks, strategy, visioning etc.
We are passionate about raising the level of creativity everywhere and work to inspire and instil the conditions for creative discovery and breakthrough with a very simple, common sense approach.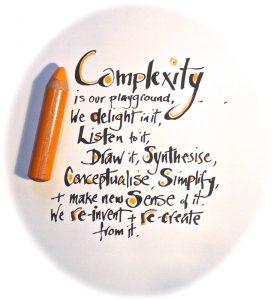 We actively engage with individuals, groups and staff members at all levels using the Art of Listening to un-tap the potential present, identify pressing issues, lift the energy, work through the transformation.
Our work tools add an extra creative dimension to the thinking process and work experience. They help you by-pass laborious thought processes and shortcut you to your own creative solutions.
We are at constant play with change. We support you to engage with, and craft your potential as well as the potential of the situation.
We believe whole-heartedly that art and creativity are vital for our on-going well-being, health, sanity and wealth. Artists have a unique way of seeing the world and their work and presence reconnects and re-engages us with our own potential.
"This is such a powerful process that allows the participants "see" what they have "heard" and thus not only adds another dimension for the comprehension of what has been shared but also deepens the exploration". Nathalie Bayol, Leadership and Executive Coach, Paris
"We were changed by Vanessa's work. When a group's words and thoughts serve as the source of a communal image, something shifts. A loop forms. They take ownership of what emerges. The images inspire conversations and the conversations show up as images. We occupied a room specific to us, a chronicle of our unique wisdom" David Robinson, Transformational Coach, Artist, at Truly Powerful and Transformational Presence
Save