We are all highly creative, brilliant beings, capable of deep, positive and vibrant change.
For Individuals
Human beings have an innately creative core which keeps us vital and alive, adaptive and thriving.
At Crafting Connection we are at constant play with creative change.
We support you to step in and actively bring forward your hugely creative self at work and at life!
Explore our offers below. Visual Facilitation in the Netherlands
For Organisations
We believe that the only really effective way to create change and achieve lasting results is when people re-discover their innate creativity and begin to act on it as the experts they are.
Building the bridge as we walk on it, invites us into our creative zone. Fixed ideas become fluid, our way forward, unscripted. That's when our creative, adaptive systems come to life and deep change begins.
We are trained to listen, encourage, and help capacitate your process and potential.
We work in companies on long and short-term development creative change projects.
We offer a fresh, creative and innovative approach to old "problems". Explore our offers of Visual Facilitation in the Netherlands and much more below.
About
We work as independent artistic facilitators, consultants, coaches, and artists. We engage with individuals and staff groups at all levels to un-tap the potential, identify pressing issues, identify pressing issues, lift the energy and work through to transformation.
We are passionate about raising the level of creativity everywhere and work to inspire and instil the conditions for creative discovery and breakthrough.
(Visual Facilitation in The Netherlands)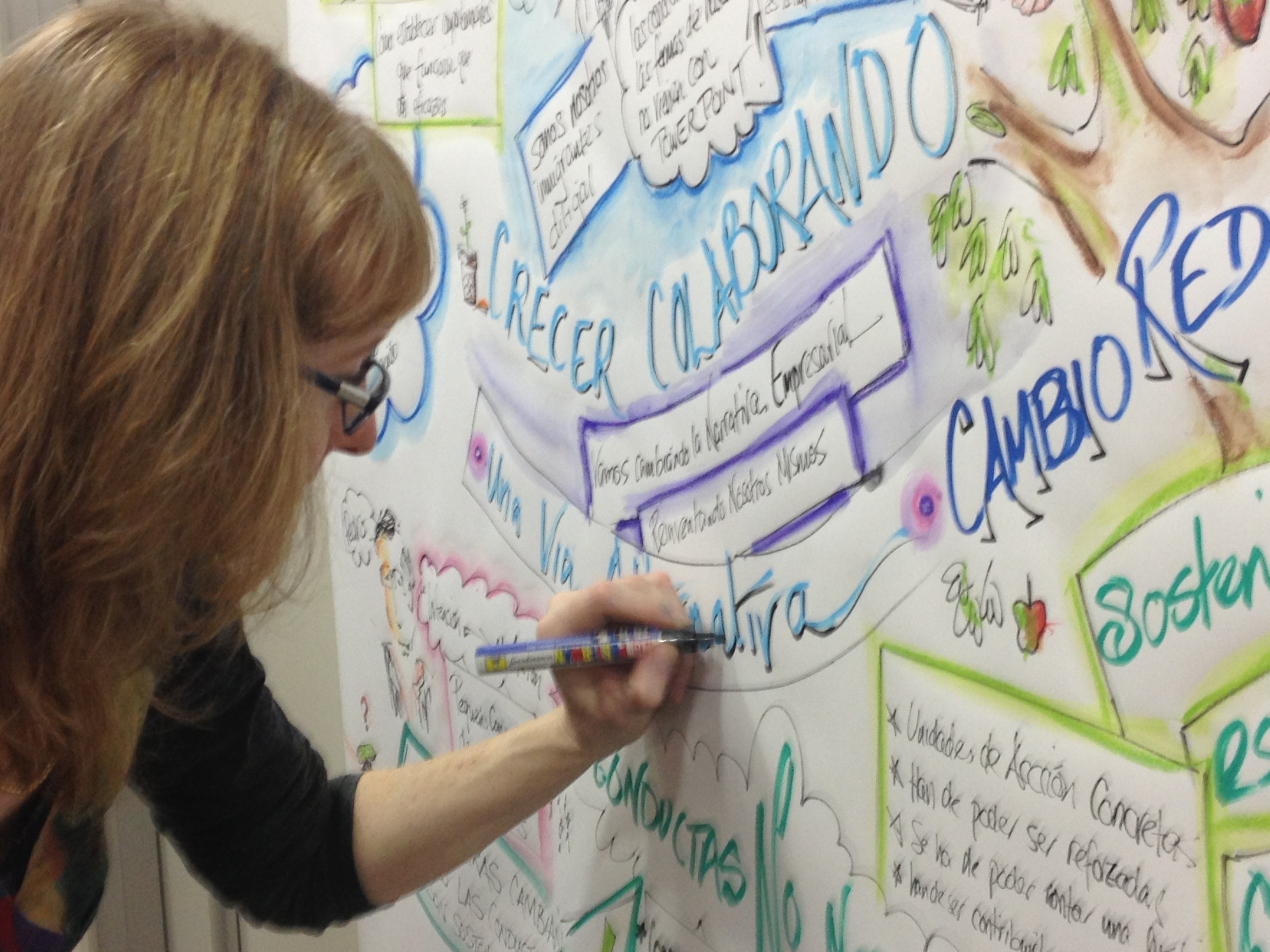 "Vanessa has this unique ability to grasp and extract the core concept-idea from a presentation or a discussion then the incredible talent to translate it into images.
This is such a powerful process that allows the participants to "see" what they have "heard" and thus not only adds another dimension for the comprehension of what has been shared but also deepens the exploration for creative change"
Nathalie Bayol
"Vanessa's work was gorgeous, informative and inspiring. The dynamic of a group changes when there is an artist working in the room. When a group's words and thoughts serve as the source of a communal image, something shifts. A loop forms: people visit the image during breaks. They take ownership of what emerges. The images inspire conversations and the conversations show up as images. The resonance amplifies the possibilities.
…The four walls of the conference centre were changed by Vanessa's work; we no longer sat in a generic space but occupied a room specific to us, designed for and by us, a chronicle of our unique wisdom. The art transformed us. We were 35 people from 11 countries made one through our intention and the circle that the art invoked."
David Robinson