Powerful Spaces to Re-See, Re-Discover & Re-Create
For Individual Heroes of Change
Human beings have an innately creative core which keeps us vital and alive, adaptive and thriving.
At Crafting Connection we are at constant play with creative change.
We support you to step in and actively bring forward your hugely creative self at work and at life!
Explore our offers below. Visual Facilitation in the Netherlands
Creative Change in Organisations
We don't have the answers to your "problems", you do! Our gift is that we SEE your brilliance and help you see it too!
We literally draw out your unfolding potential as we listen to you telling your story.
We partner with your wisdom, knowledge and potential for your own deep, positive development.
We invite you into your creative zone.
Fixed ideas become fluid, your way forward unscripted.That's when your creative, adaptive systems come to life and deep change begins.
Since 2004, we have evolved uniquely creative resources for discovering and working with your human potential.
Our facilitation style begins with "visual listening" (we listen deeply and draw in real time as the group is facilitated). You (literally) see yourself and your story unfolding and then we work with the potential which is unfolding.
We work in companies on long and short-term human potential development projects and provide creative tools to maintain and support progress and development.
We have worked with companies such as Shell, SingularityU, BBC, Oracle, TEDx, Aegon, Mini, Aramco Overseas Company, Repsol (Spain), Mundipharma.
Explore our offers of Visual Facilitation in the Netherlands and much more below.
About
I creatively co-create with a team of independent facilitators, consultants, & coaches. We engage with individuals and staff members at all levels to engage people in culture shifts. The spaces we create un-tap and harness the human potential. We inspire and create new conversations and narratives, we identify pressing issues, lift the energy and work through to transformation.
We are passionate about raising the level of creativity everywhere and work to inspire and instil the conditions for creative discovery and breakthrough.
---
I'm Vanessa Jane Smith, from New Zealand with a background in communications, organisational development, training, and coaching. I've lived and worked in Mexico, Spain and the Netherlands over the last 20 years and I focus my attentions on bringing a new way of working into the field of culture change within organisations. I have developed a collection of creative tools to support that change with groups and individuals.
But here's the point of it all.
The change can only start, continue and end with us, with the human beings at the heart of any organisation.
This change is powerfully harnessed when we really utilise our human capacities to open up and to listen deeper and wider, to courageously step outside of our comfort zones and allow ourselves to break our own rules and play and be curious and doubt and not know always about outcomes.
And this is happening! I'm working with global organisations who are now opening up, and bravely recognising and working with their much greater, non-visible human potential.
Visual Facilitation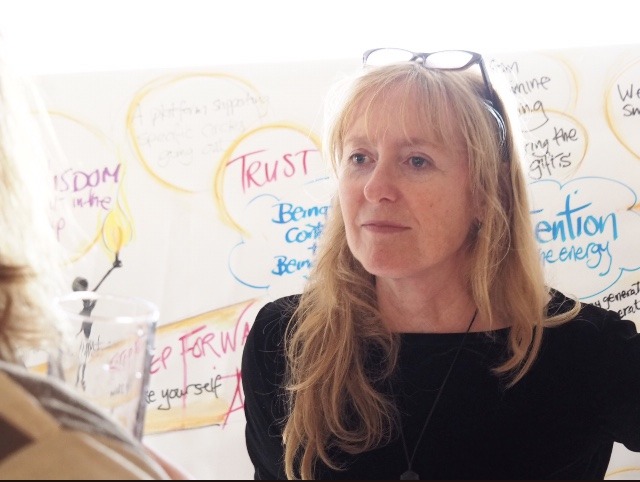 "Vanessa has this unique ability to grasp and extract the core concept-idea from a presentation or a discussion then the incredible talent to translate it into images.
This is such a powerful process that allows the participants to "see" what they have "heard" and thus not only adds another dimension for the comprehension of what has been shared but also deepens the exploration for creative change"
"Vanessa's work was gorgeous, informative and inspiring. The dynamic of a group changes when there is an artist working in the room. When a group's words and thoughts serve as the source of a communal image, something shifts. A loop forms: people visit the image during breaks. They take ownership of what emerges. The images inspire conversations and the conversations show up as images. The resonance amplifies the possibilities.
…The four walls of the conference centre were changed by Vanessa's work; we no longer sat in a generic space but occupied a room specific to us, designed for and by us, a chronicle of our unique wisdom. The art transformed us. We were 35 people from 11 countries made one through our intention and the circle that the art invoked."